"One of my best experiences on the the Planet! Can't wait to come again!" ~ Tessa Grundon, artist in residence

With the oceans facing a complex series of environmental and cultural issues, we need a diverse approach to their exploration and conservation. Our programme reflects this with projects across a wide variety of disciplines, from ocean research into microplastic pollution to artists' residencies, as well as outreach and education projects on land. Below are a selection.
2019
---
The Wild Islands Residency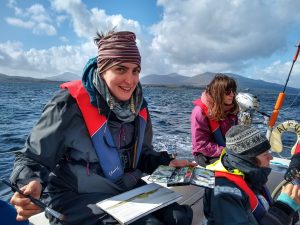 Led by artist Emma Harry, this residency explored "islandness" in the context of remote and uninhabited islands, their wilderness, ecology and landscape, as well as traces of past human habitation. Weaving together themes of isolation and the anthropocene the residency resulted in an incredible body of work from the artists in residence at "The Fragile Ocean", our end of year show.
Ocean Conservation Week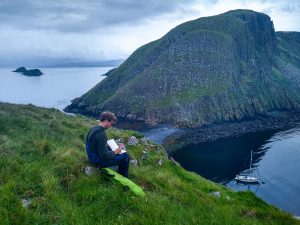 Marine conservationist Sam Pearce led a week learning about the conservation issues facing the oceans. We sailed to remote places of particular interest such as the mearl beach at Claigan and landed on the wild and beautiful Shiant Islands, one of the most important bird colonies in Britain.
Sound and Song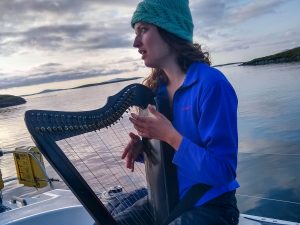 Singing and the sea has a long and important cultural tradition in the Outer Hebrides. Our crew spent a week at sea learning songs together and sharing our them ashore with communities in the islands, including an evening of Gaelic song with heritage organisation Ceòlas in Lochboisedale…read more and listen here
---
RCA Isle of Rum Residency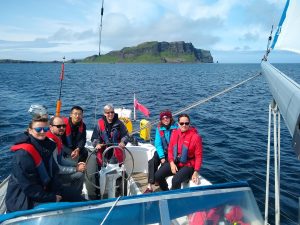 We were really pleased to take our collaboration with the Royal College of Art into our third season. The residency explored the Isle of Rum from land and sea, half a week each for two groups. Sail Britain is committed to making sailing and exploration accessible for young people and this trip was a great example.
The Life of Islands Residency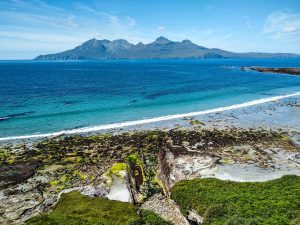 This new residency explored 'Islandness' – the nature of islands, what makes them special, and what they might offer as alternative models for society. Our voyage to the Inner Hebrides and gave artists a space to explore notions of remoteness, community, and ecology with a strong connection to nature.
Art and Conservation 2019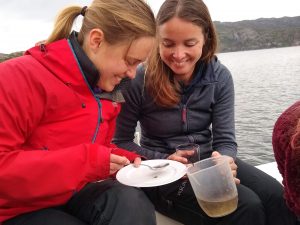 Conservationist Jazz Austin returned to lead our 2019 installment of this beautiful week combining learning about the amazing variety of life in our seas and on our coastlines with learning how to explore it through painting and sketching.
---
Marine Social Science Expedition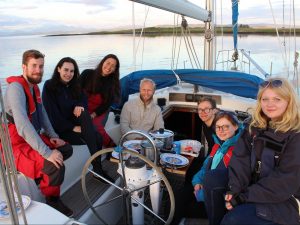 Coinciding with World Ocean's Day on the 8th of June, we set our sails for the Western Isles in a trailblazing marine social science expedition with the LSESU Marine Society exploring how the social sciences can transform our relationship with the sea…
Remote Islands plastic surveys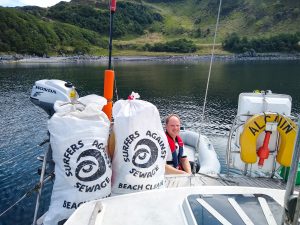 Our second voyage of 2019 began the year's environmental programme with a two-week plastic survey project of remote islands collecting data for the Surfers Against Sewage and the Marine Conservation Society team.
The Fragile Ocean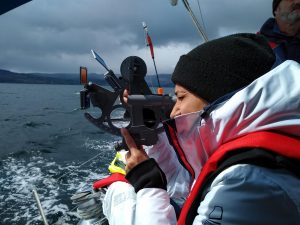 Our first voyage of 2019 saw a group of artists sail from the Clyde to Oban in search of the secrets of the ocean and its relationship with the cosmos. Run jointly with super-collider, we explored plankton, microplastics and ancient forms of navigation.
---
2018
---
Exploring Ocean Plastic Pollution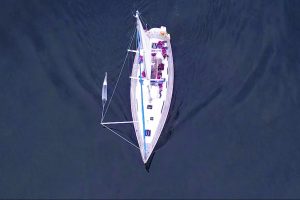 Setting sail with an interdisciplinary crew or artists, scientists and activists to explore plastic pollution in the ocean and in our own lives…read more
Art and Conservation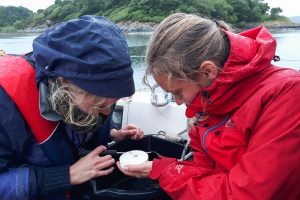 Our second voyage of 2018 was led by artist and conservationist Jazz Austin, bringing together two themes which provide the mainstay of Sail Britain's programme – creativity and ocean conservation…read more
RCA Expedition Residency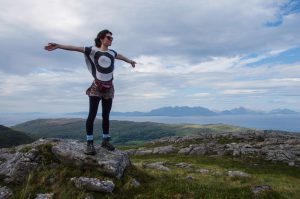 Artists in the Field – Continuing our collaboration with students from the Royal College of Art exploring islands, mountains and lochs and the importance of fieldwork for artistic practice…read more
---
NW Scotland Geology Expedition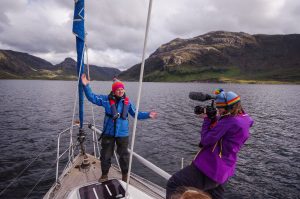 The final leg of the 2018 season saw an interdisciplinary crew of scientists and artists set sail to explore and communicate the amazing geological landscape of the North West coast of Scotland. Guest post by Harriet and Rob Fraser…read more
---
2017
---
Muir is Tir – Land and Sea, Outer Hebrides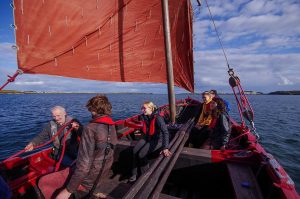 In August Sail Britain worked with the An Lanntair arts centre in Stornoway, to offer a residency for five artists to explore the cultural heritage of the Outer Hebrides…read more
Royal College of Art residency, Norfolk Broads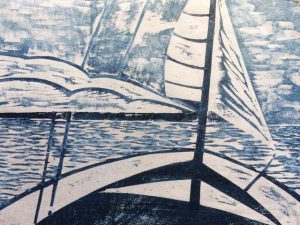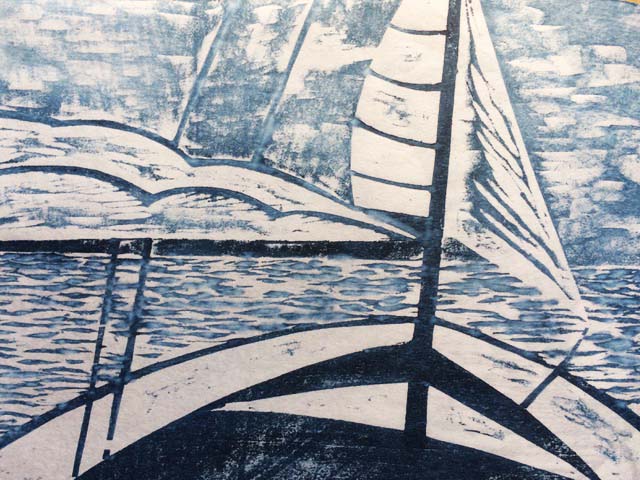 July's highlight was a week-long residency programme of sailing, exploring and creative arts with the Royal College of Art…read more
To the Land's End – Cornwall Art and Microplastics Research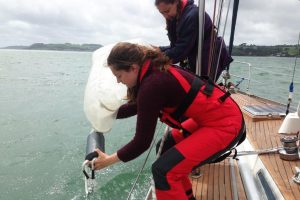 Our Cornwall programme explored the stunning rivers and flooded valleys of the South West and undertook a microplastics pollution study with the University of Exeter… read more
---
Norfolk Broads Microplastics Study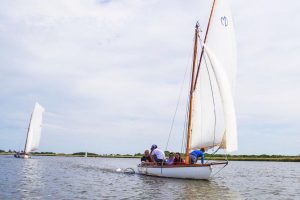 Our first expedition of the season broke new ground by undertaking a study sampling for microplastic contamination in the water of the Norfolk Broads with our research team from the University of Exeter…read more
---
2016
---
Norfolk Broads 2016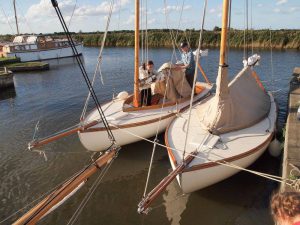 In September we returned to our old haunt of the Norfolk Broads, a stunning area of winding waterways, reed beds and hidden bodies of open water… read more
East Coast Stories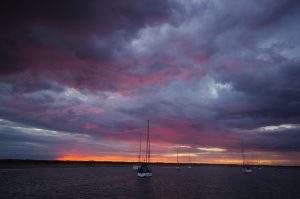 Sail Britain aims to celebrate the beauty and importance of what we find along the shores close to home…read more
Estuaries and Rivers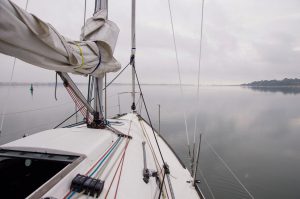 Our home sailing ground of the East Coast may be relatively placid in the Summer months but it can still throw up surprises…read more
---
Secret East Coast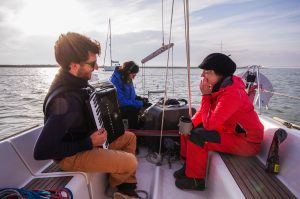 Our first expedition on the sea explored Orford Ness and other secrets of the East Coast…read more
---
2015
---
Norfolk Broads Pilot Project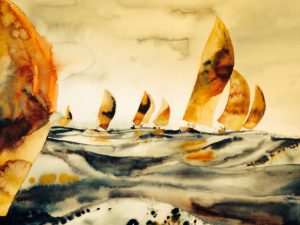 Sail Britain's very first trip was a interdisciplinary creative expedition to Norfolk…read more