Here is
Rachel Yalisove's
post sail take on our Royal College of Art residency in humourous prose
---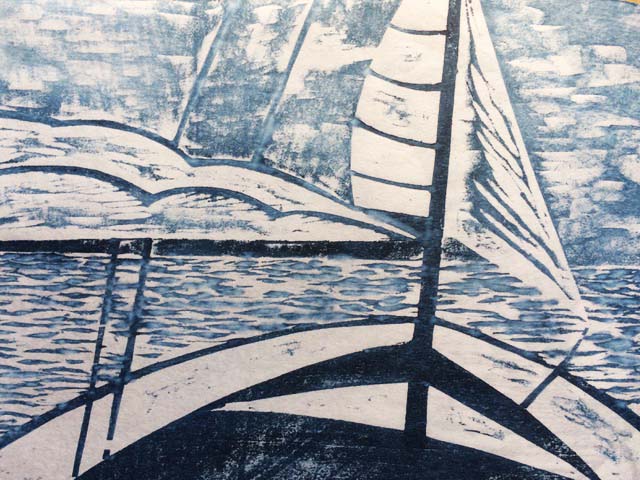 Image: Carol Wilhide Justin, Woodcut 2017
---
Ready to tack? I bet you know that phrase all too well. But now it's more like, ready to tack a to-do list on your bulletin at work? Yes, sailing has come to a close and now it's back to normal life again. That means you can no longer drop your spoon on ground, pick it up, and keep eating without getting some strange looks. It means gazing at a spiderweb will make your colleagues think you've lost your mind and demand: "Please get back to that spreadsheet!" Also, no more bathing in near zero degree water and naming it a fun idea. In fact you may now appreciate your water boiler a bit more than usual.
Anyway, I am here to give a gallery talk at our culminating exhibition, one last way to reminisce about our time out on the water. And here's a disclaimer: This talk was written before having the faintest clue about the look of this show. So I made a number of educated guesses, hope you don't mind.
Let's start off with Greg and Alistair who led a very nice workshop about ship flags and nautical symbols. It all started very well. We were sewing fastidiously. But then I noticed Paula's stitches were a little out of wack. Some others were having trouble holding onto their scissors or cutting in a straight line. Then I looked up and saw that we were sitting in a pub. When two people began shouting about their colour choices and someone else almost passed out on their flag, we realized we needed a break. On display here are the results of our partially compromised efforts, but you can see that we still made out pretty well.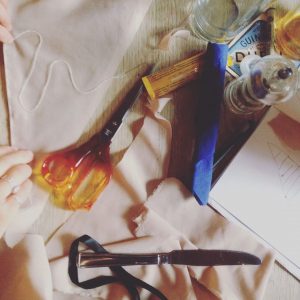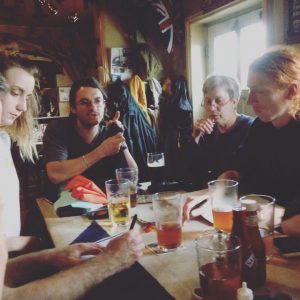 Up next is a found object piece titled "Why the hell won't it charge?" Upon close inspection you will see that it's a cheap solar phone charger from Amazon. It's symbolic of a long lasting effort to harness energy from the sun during the course of the trip. In the end, I had begun to weep over it. Then someone came over to me and said, "Of course it won't charge, we're inside of a pub!"
At some point during the trip, everyone got tired of going to the pub, and the coffee fanatics forced everyone to dock the boat by an espresso stand instead. As we wiped the foam off our faces and got ready for come caffeine, we saw Carol walk off to a small grass covered hill. Everyone thought, "There she goes again!" Which brings me to the next piece, a series of one hundred different paintings and drawings by Carol, the only artist who is dedicated to her practice. Included are sketches of coastlines, sunsets, and a portrait of a seal who had gazed longingly over his shoulder at Neta. Neta had commented in a somber tone, "No one ever looks at me like that."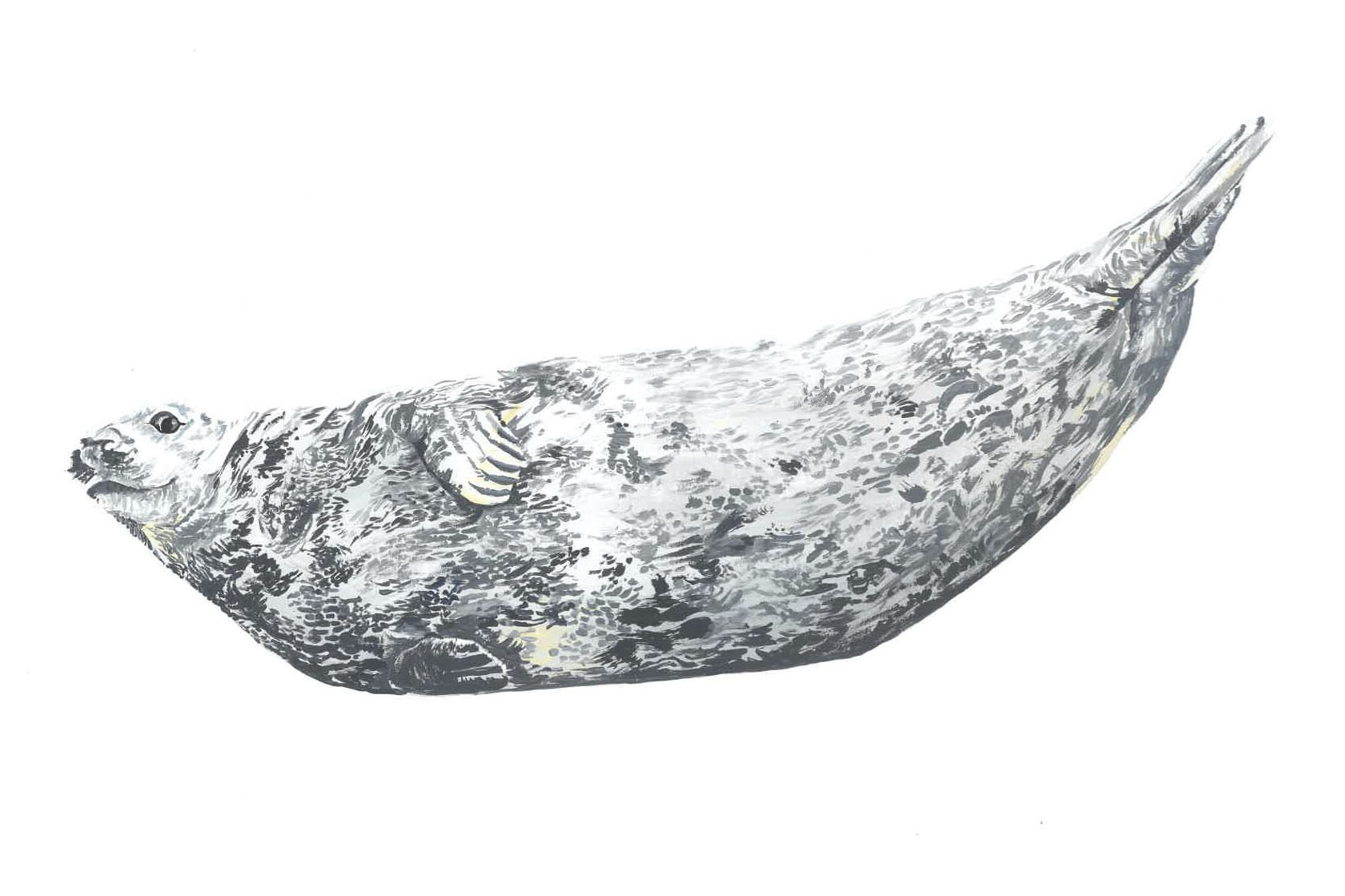 The seal who looked longingly at Neta – Painting by Emma Harry, 2017
Now, onto the next piece, a very large block of condensed peat soil with the negative imprint of a ship's bow. This piece is a monument to one of our captains, Neil, who, over the course of the trip, yelled, "Shit!" and repeatedly rammed our boat into the shore by mistake.
Next up is a performance piece, a cheese and pickle sandwich being eaten by the artist. It is a reflection on Captain Oliver, who would ask, "Does anybody else want another cheese and pickle sandwich?" over and over again, until everyone was lying in their boats with bloated stomachs from eating so many cheese and pickle sandwiches. That, of course, excludes Anna S. who is vegan, and Kimmie, who has been swimming alongside the boat the entire time and refuses to come up for food or even oxygen. So it is quite a mystery how she is alive, standing here with us today, the vegan too for that matter.
Finally, we have some work by Anna D., the student leader of our group and founder of the Artist Expedition Society. Shown are a bunch of polaroids of us all in action, tying meticulous knots, catching mosquitoes, and Carol washing all of our dishes. Thank you Carol. Thank you everyone. Now please enjoy the show.