Stepping onboard one of Sail Britain's expeditions is a chance to live a totally different life for a week. It's a wonderful way to see the world differently, learn new skills, and make new friends.
We pride ourselves in making the boat a welcoming, open-minded and inclusive space, a home from home for all onboard. This social aspect is one of the best parts of a sailing voyage. We want you to be fully involved and to be a key part of a working team in a friendly, supportive and creative environment.
Merlin is a well equipped and comfortable yacht, but it's not a life of luxury! Personal space is less than we are used to ashore, and living and working on a boat requires patience and generosity towards others. But we also think that's part of what makes it special!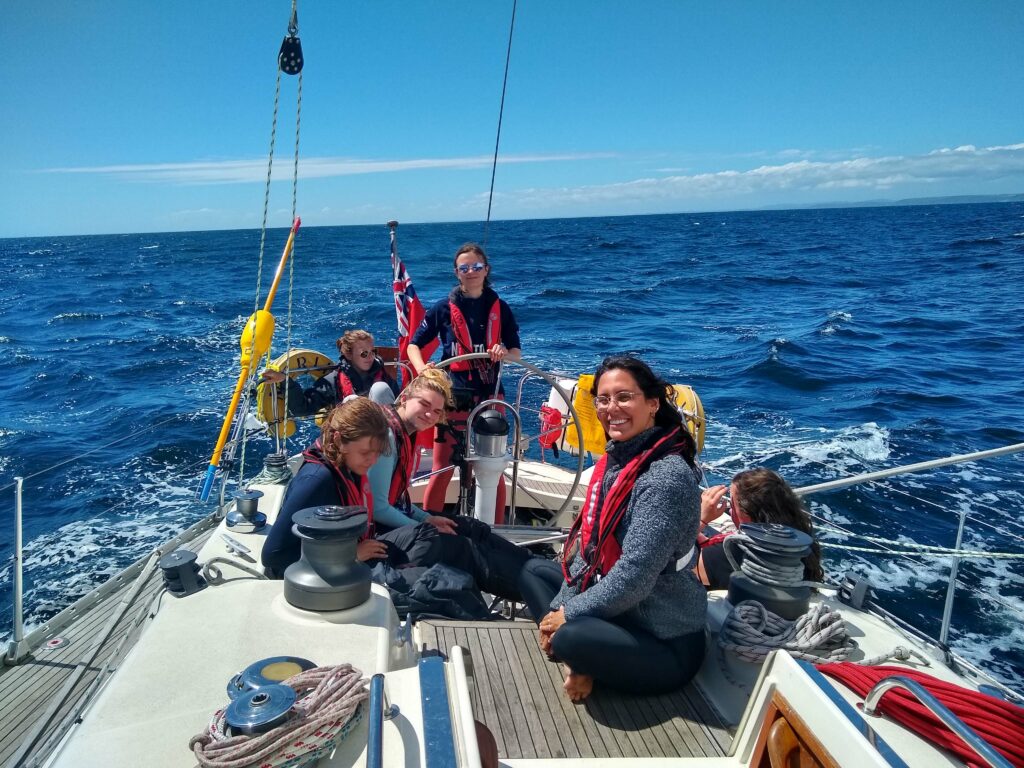 Do I require any experience?
No prior sailing experience is necessary to join Sail Britain's trips. There is always a qualified skipper and first mate onboard who will show you how everything works and make you right at home. We can't sail the boat without you, and learning how to sail is a wonderful part of the trip. There isn't anything quite as exhilarating as crashing through the waves on an ocean-going yacht! It's a brilliant way to experience the ocean and get closer to nature.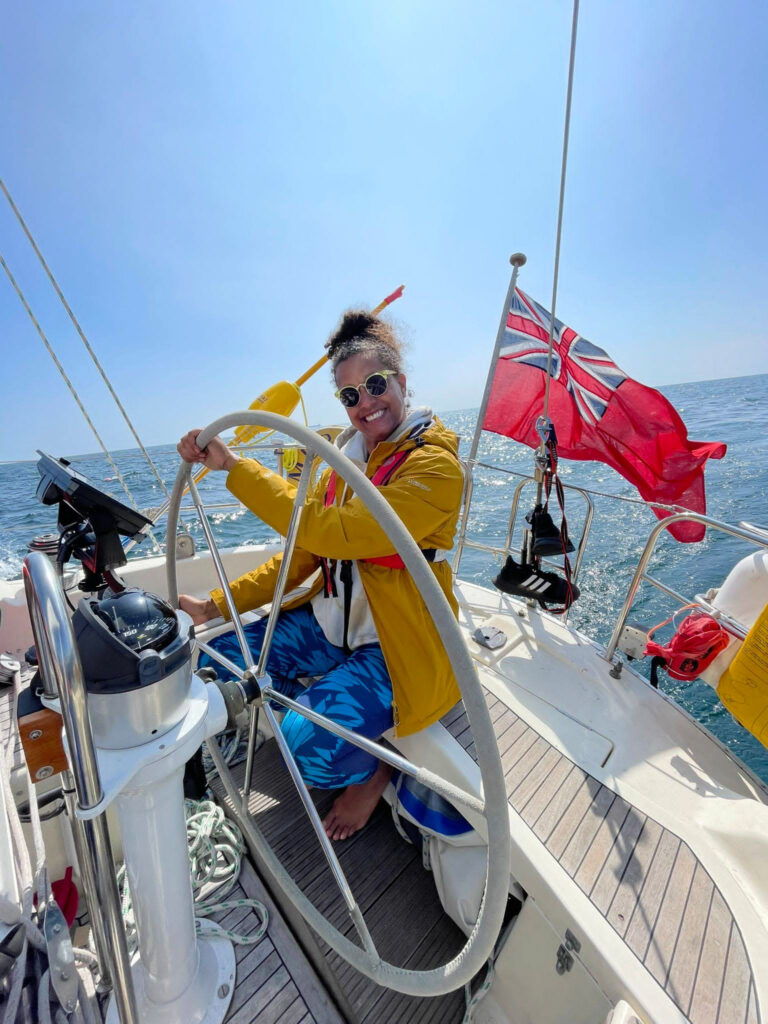 What is a typical trip like?
Each week varies according to location and the topic of exploration, but all have much in common as well. The first evening will be a warm welcome aboard the yacht and an introduction to the trip and your companions over dinner. We usually set off the next morning, and spend the first few hours getting to grips with all the new skills required to sail the boat and adjust to life on the water. Everyone will have a go at steering the ship, operating ropes and winches, and trimming the sails – essential knowledge for the week ahead. You can also get involved with the navigation, and the skipper and first mate will be very happy to tell you more if you're keen to know.
We stop each evening and enjoy finding the wildest and most beautiful places, away from the big ports and marinas. Evenings are spent exploring ashore, swimming, foraging or learning more about the ocean from the expert trip leader. Merlin carries a range of scientific gear which allows us to take a deeper look at the ocean, including hydrophones, microplastics/plankton net and microscopes.
What's the food like?
Food is very important on a boat, it keeps us warm, healthy and gives us energy – you get through a lot on the water! We cook big hearty dishes, full of good ingredients and flavour. Most of the dishes we cook are vegan as a starting point, to be both sustainable and inclusive of dietary requirements, but we add other things on top, and given the opportunity, include fresh local produce such as fish or venison in Scotland, according to the crew's dietary requirements. Main meals are in the evening, with lunch a simpler affair as it's often had while out sailing. We can cater for those with gluten or lactose intolerances so food should not be a barrier to participation.
Where the opportunity arises, we often do a bit of foraging for fresh wild ingredients. The ocean and seashore provides a myriad edible delicacies like wild garlic, seaweeds and fish, and it's great fun as well.
One of the highlights is our weekly beach barbecue. What is better than cooking over a driftwood fire on a remote beach with your crew?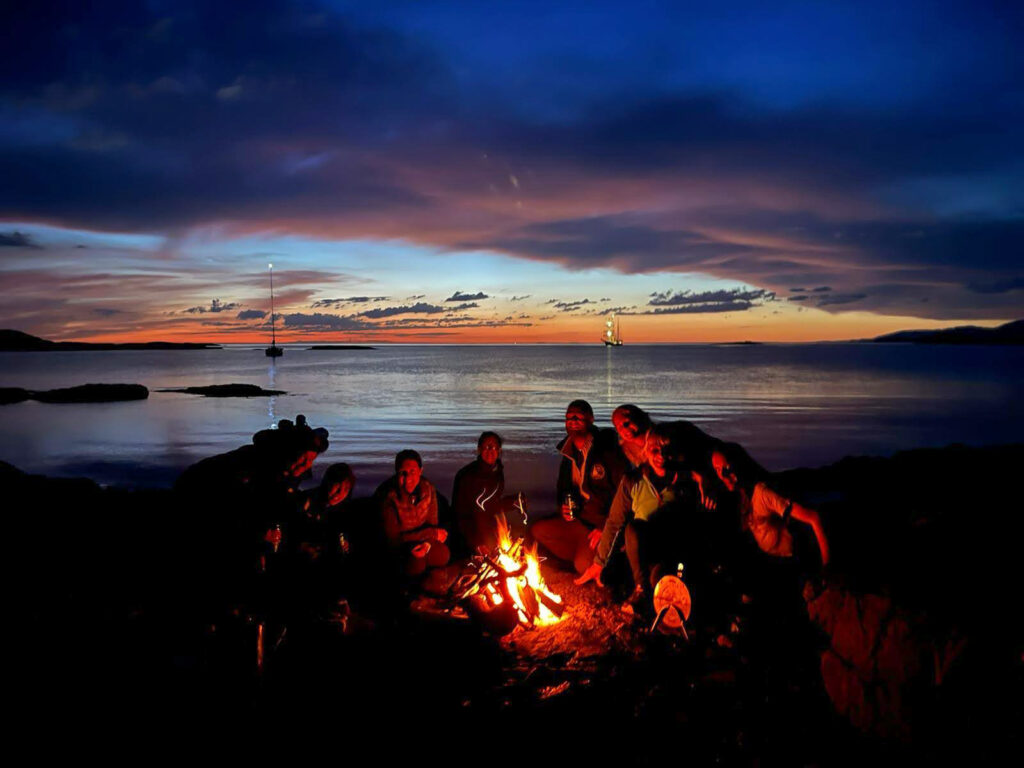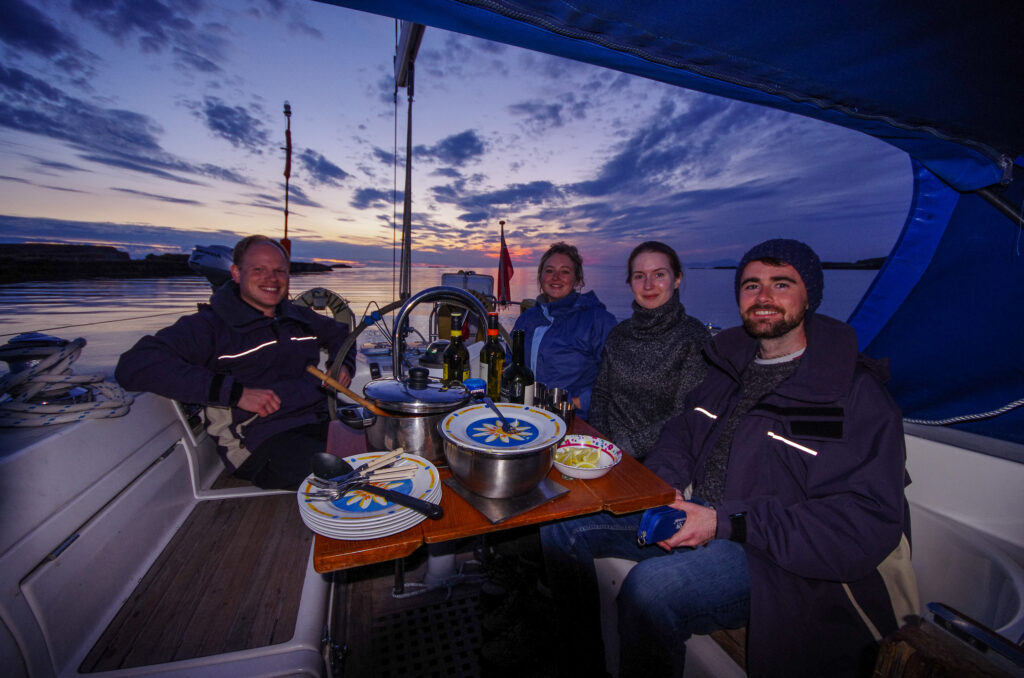 What is the accommodation like?
Merlin's accommodation is quite traditional in layout with an emphasis on single berths. The open plan saloon is the heart of the boat and a brilliant social space where we eat, socialise and explore our findings together. In the evening this converts to four single berths, the full length settees and the two quarter berths. In the bow and the stern there are two cabins, each with a double berth and fitted mattresses. All are very cosy and comfortable. All you'll need is your own sleeping bag and pillow.
Life on a boat is also a great exercise in living sustainably with limited resources. Fresh water and power are finite and precious onboard, so things like washing with a flannel and not leaving the lights on have to become daily habits.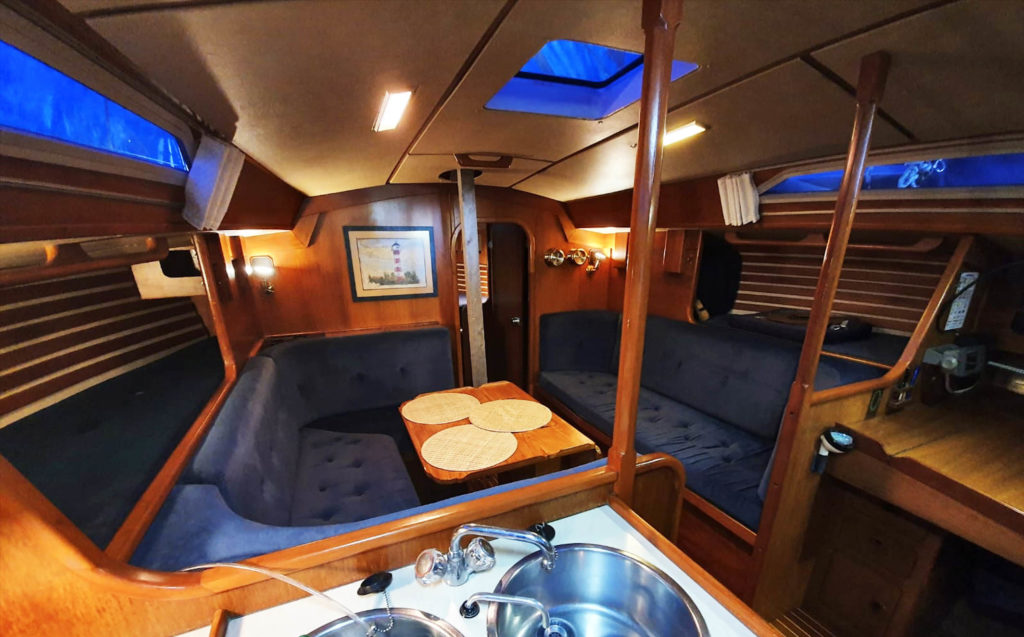 Do I need lots of fancy kit?
No, we have everything you'll need onboard. The yacht is equipped with waterproofs and safety gear for the whole crew. You should bring a warm jumper as being at sea, even in the summertime, can be chillier than on land. A general kit list will be provided with useful things to bring.
Can I charge things onboard?
The yacht runs on a 12v electrical system powered by batteries, and power is precious. You can charge mobile phones via USB, but anything requiring 240v such as laptops and cameras needs to be charged before the trip. Spare batteries or a charge bank would be useful if you have them. Phone and email reception can be limited at sea so you should be prepared to be out of contact at times when we are not in port. We think that's a good thing!
Merlin's solar panels allow us to make the most of fine conditions and have cut our emissions.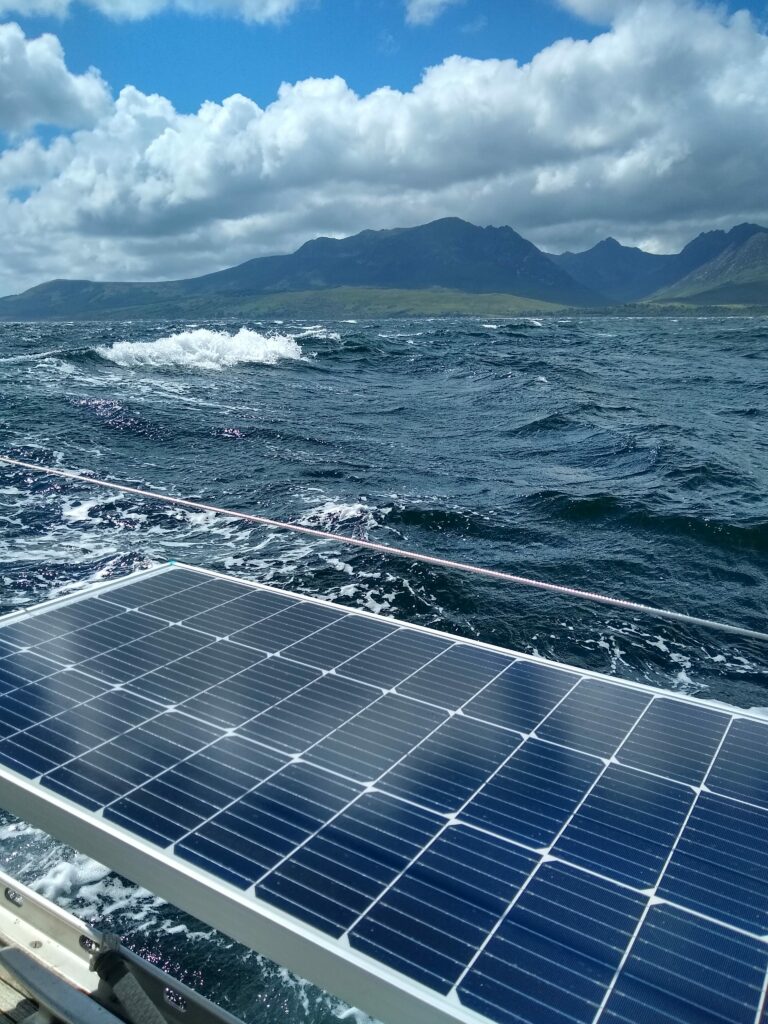 What about seasickness?
It is normal for some people to experience seasickness from time to time, but if you do, do not despair! There are many ways of dealing with this until you get your 'sea legs', and the crew will look after you. A good precaution are 'travel calm' tablets available over the counter, which are usually effective. If in doubt, contact your GP for advice. There are also other ways of staying comfortable on board, such as to take the helm and concentrate on the horizon, and staying warm and hydrated. Ancient Chinese navigators used to chew ginger to ward against seasickness and some people find this is a good natural alternative to medication.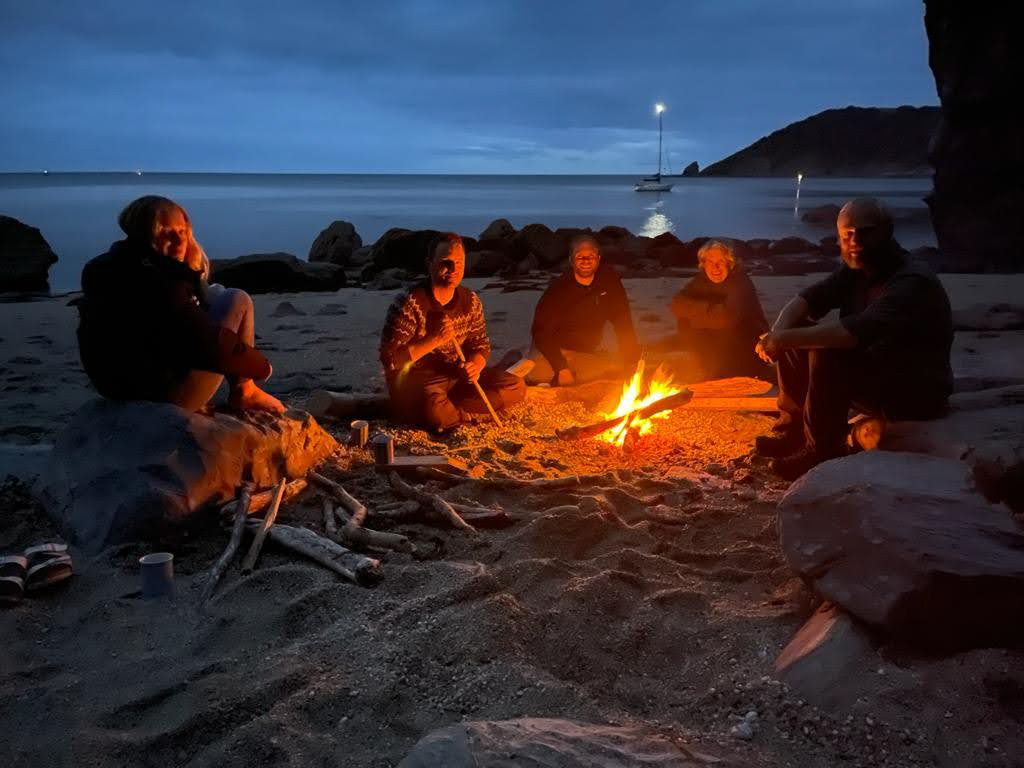 Will I be safe?
Your safety is of the highest importance and we take great care to do everything as safely as possible. There will always be a qualified skipper and experienced first mate onboard with First Aid and Sea Survival training. The yacht is equipped with comprehensive safety gear, medical kit, and state-of-the-art radio and satellite communications equipment. The skipper or first mate will give a comprehensive safety briefing at the start of the trip and will be able to refresh your mind on any sailing or safety matters at any time.
Hopefully this gives you a good picture of life onboard, but feel free to drop us a line if you have any questions – info@sailbritain.org