Week 1: 31st July – 7th Aug 2021, Falmouth

Week 2: 7th – 14th Aug 2021, Falmouth
We are very excited to be running The Life of Islands residency for a second year in a new location – the majestic south coast of Cornwall. During the week, we aim to reach the Isles of Scilly, located southwest of Land's End, an enchanting sailor's paradise of islands with hidden inlets and coves and a unique micro-climate influenced by the gulf stream. The residency will span the Cornish coast from Falmouth via small fishing villages and the most southerly point of the UK – the impressive Lizard Peninsula.
The residency, led by artist and musician Laura Copsey , whose practice surrounds history and narrative through experience of place.  This year, due to the shift in location Laura is broadening the island's theme and will be sharing her new initiative Keepers of the Light – a site-specific research project that aims to experiment with documentation, time and experience collaboratively – the basis of Laura's phd proposal.
The week will offer artists a space to explore notions of remoteness, community and connection, at the intersection between land and sea. Throughout the week, Laura will be leading workshops exploring themes of islandness, maritime heritage and light – we will encounter lighthouses and the architecture of signalling, whilst enjoying the darkness of the new moon for star-gazing, accumulating in an exchange of ideas and personal responses to the theme.
The residency will have a greater focus on exploring ashore than most in Sail Britain's programme, so in addition to some wonderful travel under sail, expect long evenings to go roaming on land and spending time working on personal projects and discussing creative approaches. Nevertheless, this residency will encompass the surrounding seas and will be an opportunity to experience the ocean firsthand in a very intimate way. We will be travelling by sail, a slow form of transport which allows an appreciation of distance, separation and the elements. It also brings people together as a crew to explore collaboratively, and to develop and exchange ideas.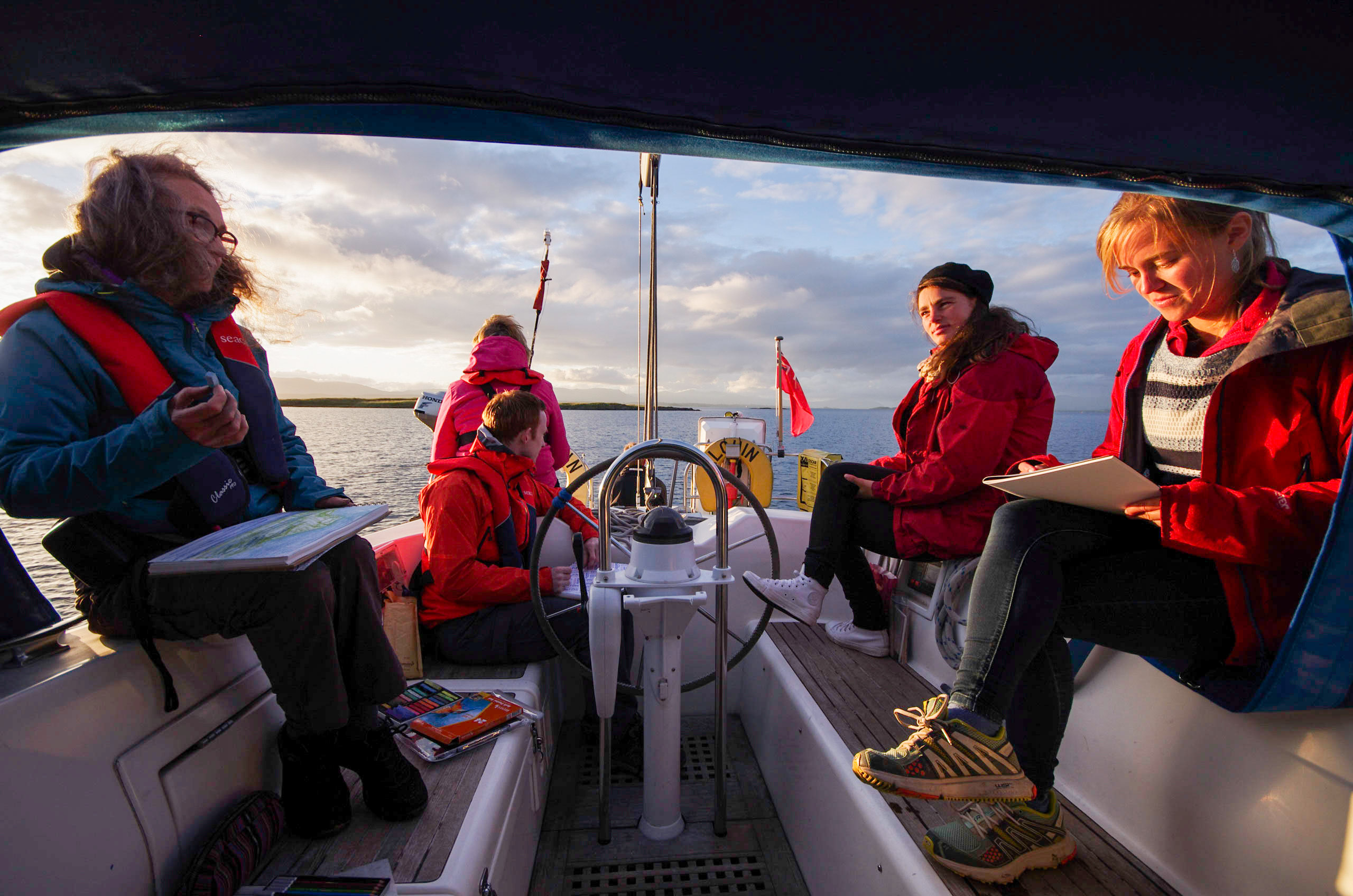 All equipment, sail training, food and a cosy berth onboard is included in the residency fee of £695 which also covers the cost of the boat and crew. Please see this page for suggestions on funding your place. Also have a look at our FAQs page for an insight into life onboard. The resident artists should bring any materials or equipment required for their practice, but please be aware space onboard is limited and creation of large scale works may not be possible, at least during the week. However we encourage participants to think outside the box!
For any questions about the programme, please send us an email – info@sailbritain.org