We need a sea-going home for Sail Britain!

We are working hard to connect people and the ocean for positive change. After several years of chartering, we need to raise funds for a boat of our own to provide a stable future. Your support for the next chapter of Sail Britain will provide us with a secure platform for inspiring people of all ages year-round, and for events for which chartering a boat would not be feasible. This will include curriculum-linked visits by school children while in port, and for workshops and cultural events in the off-season.
"Sail Britain is one of the most accessible, transformative and impactful ocean programmes I have ever encountered."
Why support us?
Sail Britain is a unique project. Our interdisciplinary approach to the cultural and environmental study of our oceans has enormous potential to continue to influence individuals and policy makers alike and reaches many thousands of people, but it needs a more secure future. As a social enterprise, we believe in the value of community and diversity to influence positive change, and we design our programmes to be as inclusive, supportive and educational as possible.
What we can offer You
A two-way relationship
We understand that sponsorship is a value exchange between people with shared objectives. We want to give back to your community, whether as a headline company sponsor or as an individual donor, as a way of saying thank you for supporting our work, and making a positive difference to the lives of the people we engage both on and off the water.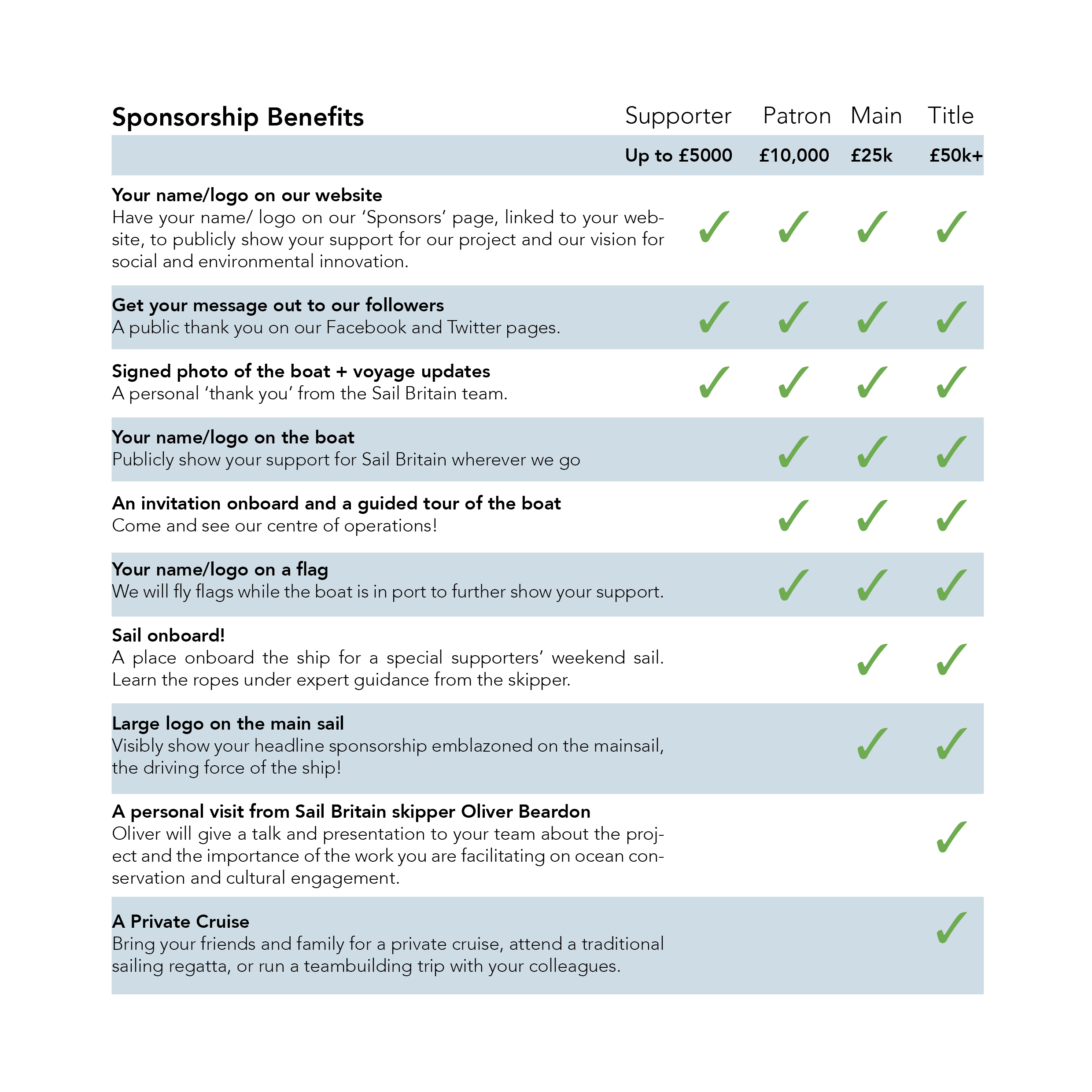 Please contact us if you would like to discuss a custom sponsorship arrangement, we're flexible and happy to consider how we can best work together.
What will funding be used for?
Funds will be used to purchase and commission a safe and seaworthy boat with the necessary equipment and certification for our needs. This will require a significant upfront effort, but the boat will provide the necessary stability to facilitate our long term vision as the project grows. Sail Britain now has a proven track record as a self sufficient project with four successful years under our belt without external support. We have sailed with hundreds of people from the ages of 18 to 78, and have run projects of great diversity.
If you would like to support us, or know someone who would, please send us an email – info@sailbritain.org

Any donations you make will be put to the very best use to make a real difference.
What do others say?
"Sail Britain is one of the most accessible, transformative and impactful ocean programmes I have ever encountered." – Arzucan Askin, Founder, LSE Marine Society
"I don't think I've ever had such a great week away. We were immersed in nature, and could see the human impact on fragile ecosystems first hand, and I didn't need to take a flight half way across the world to see it. If you haven't checked out Sail Britain you should. They are running the most amazing conservation sailing trips." – Laura Sanderson, Surfers Against Sewage
"Had the most incredible trip with Sail Britain. Such beautiful scenery and beautiful people too. Let's all make those changes to save the ocean and not take for granted what we have." – Steph Glavin
"Massive thanks to Sail Britain for facilitating the start of something incredible." – Camilla Brendon